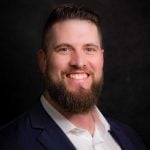 Colin Davis
REALTOR®
A little about me
Ladies and gentlemen, gather 'round as we introduce you to the one and only, Colin Davis! Hailing from the heart of East Texas, this guy's got more charm than a rodeo clown and a passion for helping folks that's bigger than a Texan sky.
After moseying on over to Tyler in 2012, Colin couldn't help but fall head over boots for the city. He initially dabbled in the world of health and fitness, even wrangling degrees in Health and Kinesiology from The University of Texas at Tyler. For eight years, he's been shaping up bodies, but now he's in the business of shaping up lives.
The stage of real estate has become his rodeo, where he lassos new folks in Tyler, granting them the grand opportunity to call a humble house their very own homestead. Colin's clients often gush about him being as hardworking as a Texan summer sun, as patient as a slow-cooked brisket, as trustworthy as grandma's secret recipe, and as reliable as a trusty steed.
He's got a vow to ensure his clients ride off into the sunset of satisfaction, knowing their home purchase is as solid as a brick house (literally). And when he's not out showing homes or schmoozing with clients, you'll catch him rustling up quality time with his wife, Whitney, their little wrangler Tucker, and their two four-legged friends, Mickey and Bo. They even make room for the feline sensation, Marlow.
In his downtime, Colin's hobbies are as Texan as it gets – smoking meat, indulging in Andy's Frozen Custard, pumping iron, and lending a hand to the community. He and Whitney are all in, working with foster children and investing in the lives of their fellow townsfolk. Tyler is the soil where they're planting their roots, aiming to cultivate relationships that'll last longer than the Texas heatwave.
TREC INFORMATION ABOUT BROKER SERVICE | TREC CONSUMER PROTECTION NOTICE