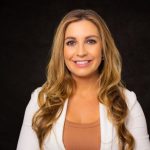 Chelsea Montgomery
REALTOR® | GRI
A little about me
Ladies and gents, let us introduce you to a true Texas gem, Chelsea! Hailing from the enchanting land of Tyler, she's as Texan as bluebonnets in springtime. Nestled in Chandler with her main squeeze, Tyson Montgomery, and their dynamic duo of kids, Mackenzie and Carson, not to mention their trusty Goldendoodle, Louie. They've got enough charm to light up the Lone Star State!
Now, here's the kicker – Chelsea and her hubby are the masterminds behind TMC Custom Homes. They're the duo you want in your corner for all your homey adventures. It's like they've got the blueprint to your dream life.
Chelsea's secret sauce? She's a design guru, both inside and outside the box. When it comes to home building, she's got the Midas touch. You need a new crib? She's got you covered from the front porch to the backyard hammock.
Whether you're selling your slice of heaven or hunting for your next dream den, Chelsea's got your back. She'll sprinkle her magic design dust to get your home market ready. And when it's time to find your new haven, she'll make those walls whisper their potential.
Her true passion? Building dreams from scratch. She's the architect of happiness, finding the perfect plot of land for your castle or listing your property to pave the way for your next grand adventure.
So, if you're in the market for a real estate wiz with a touch of Texas charm and a knack for making your home dreams come true, Chelsea's your go-to gal. Get ready to ride into the sunset of your real estate journey, y'all!
TREC Information About Broker Service | TREC Consumer Protection Notice